We look at the steps breeders can take when getting young pets to their new homes amid the coronavirus restrictions.
Thousands of puppies and kittens are born each week in the UK, and that means there's a constant stream of young pets ready to settle into new homes after they've spent the right amount of time with the mother and litter.
But with travel restrictions and social distancing guidelines still in place to varying degrees across the country, breeders are facing a new challenge: how to choose the right homes for their animals without coming into close contact with potential owners.
As Bill Lambert, Senior Health and Welfare Manager at the Kennel Club, says: "We've had lots of enquiries from many different groups, including breeders and would-be owners wanting to know what to do."
Here's what you need to know.
Lay the groundwork
The latest guidelines state that breeders can now meet potential buyers to find out whether they are a good match, as long as everyone sticks to the social distancing requirements at all times, including when it is time to hand over a young animal.
Of course, it's still up to the breeder to check that buyers are both ready for a puppy or kitten and able to give an animal the right 'forever home'.
And with more people staying at home right now and thinking they're in a perfect position to get a puppy or kitten, the breeder's judgment call is more important than ever.
As the new saying from the Dogs Trust goes, "A dog is for life, not just for lockdown".
Check out would-be owners
Asking the following questions will give you the information you need to exercise proper judgment, which is just as important as ever.
Are the would-be owners ready to put in the time, money and affection required to care for the animal over many years?
Will they be around to train and socialise a young animal during what is a really important stage in its development?
Can they offer the right environment – a suitable home and garden – for a young animal to thrive physically and emotionally?
Breeders could look at what the Dogs Trust is doing here. Since mid-April, the charity has been trialling its 'handover at home' system for some of the dogs in its care.
Dogs Trust asks would-be owners to fill out an online questionnaire on what they are looking for and on their home circumstances, then takes time to get to know them over the phone to find out more.
If prospective owners can offer the right kind of home and attention and are matched with a dog, they meet virtually, using an online video call.
As long as that is a success, Dogs Trust takes the dog to meet their potential new owner in their garden or local park, sticking to social distancing guidelines. If everything goes to plan, the dog stays with its new owner.
In one month alone, Dogs Trust successfully rehomed 450 dogs using this lockdown-friendly approach.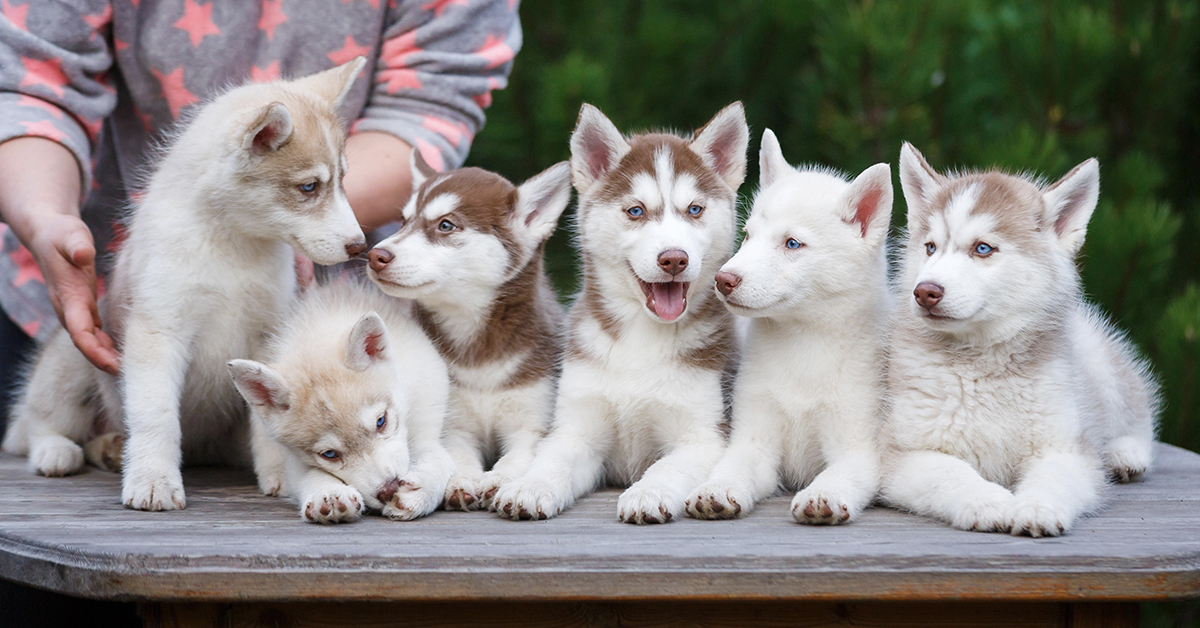 Prepare for handover
One way to streamline the process of handing over a young animal to its new owner is to set up a puppy or kitten contract between the breeder and the prospective owner.
It's a legal document that can cover everything from medical information to when payment is expected. A free puppy contract template is available from The Puppy Contract, and kitten breeders can use the kitten checklist from The Cat Group.
As well as a clear contract, new owners usually appreciate any advice and support that breeders can give them. As Jill Peak, a leading dog-show judge and breeder of Bayard Beagles, explains: "It may seem like a lot of information and paperwork, but preparing some of the following in advance will make the handover smoother." You should try to provide:
Details of vaccinations, a vet's certificate and a microchip number (which is now a requirement before a puppy leaves a breeder);
Insurance that starts straight away. Sign up to the Petplan Breeder Scheme and your puppies or kittens will leave with 4 weeks free Petplan insurance, giving the new owner peace of mind;
A worming chart;
A registration certificate;
A contract of sale (which might be part of that all-important puppy or kitten contract and payment agreement); and
A guide to settling-in, including a diet sheet and details of any equipment that will be supplied, if any. Read our pet advice pages for more.
Put safety first
As the Department for Environment, Food and Rural Affairs (DEFRA) guidelines suggest, pet breeders and pet sellers should "take decisions on a case-by-case basis in terms of handing over animals to new owners to ensure precautions are taken and guidance is followed".
Puppies or kittens shouldn't be taken to an infected or self-isolating household, so check that out in advance.
Handover should take place outdoors, for example a garden, and social distancing maintained. Meeting indoors in groups of two or more could breach the most recent COVID-19 regulations.
If possible, avoid handing over any pet baskets, food, leads or other equipment. Sterilise all equipment that is handed over.
If in doubt about anything, read the updated guidelines from the The Canine and Feline Sector Group (CFSG).
"Lucy's Law" has arrived
Social distancing guidelines are not the only thing going on right now, of course. The much-anticipated new legislation designed to protect puppies and kittens, known as "Lucy's Law", came into effect in England on 6 April.
As Trevor Cooper, an expert in canine law, explains: "Lucy's Law itself, the part that prevents underage puppies and kittens being sold by dealers, is in force despite COVID-19."
"The regulations were put in place to try to put an end to puppy farming. In England, anyone looking for a puppy or kitten under six months old must deal directly with a breeder or the rehoming centre."
When it comes to social distancing, do bear in mind that guidance is being updated regularly by the government, and laws differ in Scotland, Wales and Northern Ireland. Information last updated on 3 June 2020. We'll keep you posted as the situation changes.
Petplan Breeder Scheme members can sell their litters with 4 weeks of free cover, at no extra cost to them or the new owner.
If you're not a member, join the Petplan Breeder Scheme and start earning rewards.
Join now
If you're already a member, log in to activate your free cover today.
Log in